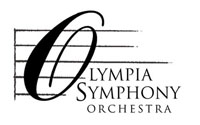 Olympia Symphony Orchestra
The mission of the Olympia Symphony Orchestra is to provide the highest quality live music to enrich, educate and entertain an expanding audience.
The Olympia Symphony Orchestra is made up of talented and dedicated musicians playing together under the baton of Maestro Huw Edwards in the great classical pieces we know and love, as well as some less familiar works. The members of the Symphony want to share the love of classical music with the community and hope to encourage new listeners from the younger generations to attend concerts.
To become an Olympia Symphony season subscriber please call (360) 753-0074.