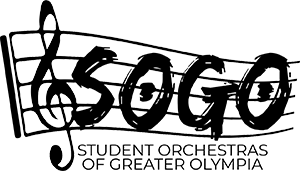 Student Orchestras of Greater Olympia
The mission of SOGO is to provide a challenging, fully integrated music experience for the young musician that includes orchestra and ensemble performances, music education and a broad spectrum of music-related activities.
SOGO features a comprehensive and sequential program designed to grow student abilities in sight-reading, basic to advanced instrument pedagogy and musical artistry. These goals are achieved by playing selections from the standard orchestral repertoire. Music is selected to represent various genres, cultures and historical periods. Using this quality literature, SOGO focuses on technique, rhythm, intonation, ensemble and listening skills along with individual, section and orchestral sound development. Music selections generally increase in difficulty as the season progresses and the foundations for good orchestral playing develop within the individual and ensemble.