July 26, 2018 at 5:30 PM
Join us for an elegant evening as we celebrate the arts in south Puget Sound. Your support helps inspire audiences and artists of all ages, and enriches the vibrancy of our community.
Through July 6, 2018
Individual seats: $125
Full Table: $900  
Starting July 7, 2018
Individual seats: $145
Full Table: $1,040  


The Awards for Excellence in the Arts recognize the individuals and organizations whose work, support, and creativity help build a vibrant cultural community.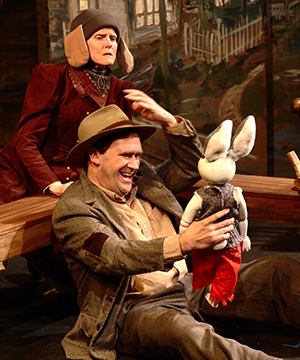 Olympia Family Theater
Achievement in the Arts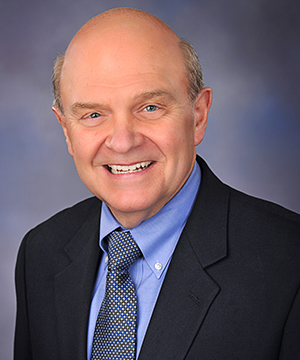 Jim This
Commitment to the Arts


Acoustic Experience
Sound is a fundamental element of the performing arts. It helps convey meaning and emotion. At its zenith, it is delivered to the human ear with clarity and precision. You can help invest in new sound equipment that will improve the experience for the audience and enhance every performance at the Washington Center. From local arts groups to national and international touring artists, your support will help the Center continue to be a desirable place to perform as well as enjoy the arts.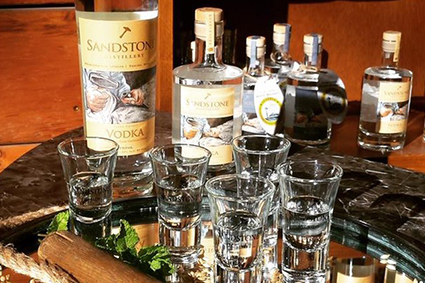 Start the night off right with a truly local taste! Crafting grain-to-glass whiskey, vodka, gin, and specialty spirits with 100% Washington-grown grains, Sandstone has elevated drinking in the South Sound. Treat your table to a round of cocktails made at your table, featuring Sandstone's premium spirits. This item includes a Craft Cocktail Party at the Tenino-based Distillery for 16 people!
Donated by Sandstone Distillery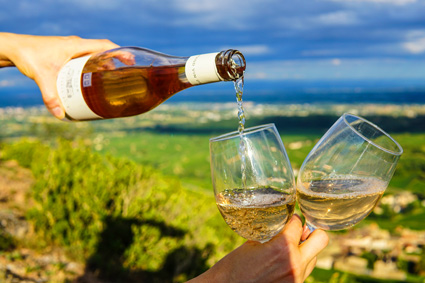 Thanks to a truly unique combination of climate, character, charm, and culture, the Walla Walla Valley is home to one of the finest wine regions in the nation, with over 2,800 acres of grapes. Your romantic getaway for two includes private tours and tastings at Dunham Cellars, Woodward Canyon Winery, and Long Shadows Winery. You'll be spending two nights in The Doghouse, Dunham Cellars' onsite suite. Located in their production facility, you can peek into the barrel room to get an intimate view of the winemaking process. Accommodation expires July 26, 2019; subject to harvest season and may be unavailable 4-5 months out of the year.
Donated by Dunham Cellars, Woodward Canyon Winery, Long Shadows Winery, and John Deardorff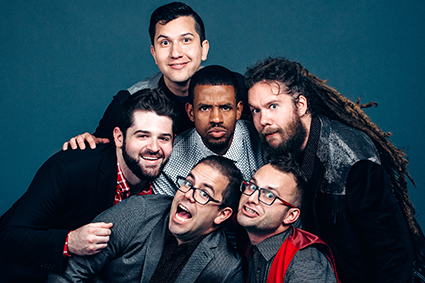 The most romantic way to say "I love you," is through song. And this is your chance to knock the socks off your loved one! On Tuesday, January 8, 2019, your romantic evening starts with dinner for two at Anthony's Hearthfire Grill. Following a delicious dinner, you'll have the once in a lifetime opportunity to dedicate a song of your choice to be sung to your loved one by the a cappella world-class vocal ensemble, Six Appeal. Includes two prime seats to the grand return of Six Appeal to the Washington Center, where their first-place win at the 2012 national Harmony Sweepstakes began! Package includes a one-hour massage at Focused Massage Therapy.
Donated by Anthony's Hearthfire Grill, Focused Massage Therapy, and The Washington Center for the Performing Arts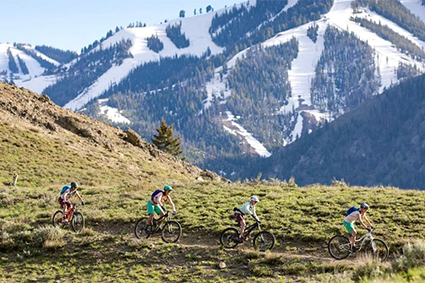 Sun Valley, Idaho is your all-season family resort destination! Whether you're looking for sun, skiing, or golfing, Sun Valley is ready to welcome you! Your romantic escape to Sun Valley includes a two-night stay at The Wood River Inn in nearby Hailey, ID, which provides relaxed mountain sophistication and resort amenities. Your vacation is packed with entertainment and experiences! This package includes dinner for two at the Grill at Knob Hill, dinner for two at Whiskey Jacques, a round of golf for four at Sun Valley Resort, a Bald Mountain gondola ride for two to the Roundhouse vista, a tour around town in a vintage Model T, a private gallery tour at Christine Warjone Art, and delicious gourmet dessert package compliments of Toni's Sun Valley Ice Cream. Hotel stay expires June 30, 2019; not valid June-August. Golf expires at the conclusion of the 2019 golf season.
Donated by Christine Warjone Art, Knob Hill, Sun Valley Gondola, Sun Valley Resort, Toni's Sun Valley Ice Cream, Whiskey Jacques, Wood River Inn & Suites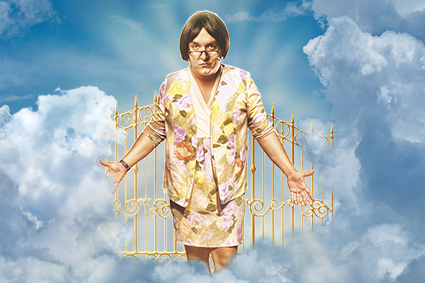 This incredible package comes complete with a year of car washes by Shur-Clean Car Wash with five convenient locations throughout south Puget Sound, interior & exterior window cleaning for up to 14 windows at your home by Window Genie, and a $60 gift certificate to Olympia Wax Bar for all your body's most intimate waxing needs! But that's not all! It also includes a cleaning package from Archibald Sisters with soaps, loofahs, rubber duckies, body lotion, and a $150 gift certificate. And this package could not possibly be complete without two tickets to God is a Scottish Drag Queen on May 4, 2019. Dressed in your favorite floral power suit, God descends once more to skewer everything in a hilarious sequel 2,000 years in the making! Ever ready with a witty opinion, critically acclaimed and award-winning comedian Mike DeLamont's snarky character is even more entertaining the second time around. This is quite possibly the best - and most fun - cleaning investment you'll ever make.
Donated by Archibald Sisters, Olympia Wax Bar, Shur-Clean Car Wash, Washington Center for the Performing Arts, and Window Genie

Join Chelsea Farms for an exclusive feast for four couples on their beach farm! Chelsea Farms is well-known throughout the West Coast for their "Chelsea Gem," a petite tide tumbled Pacific oyster. The evening will include a raw bar, beer, wine, and cocktails, as well as an assortment of clam, geoduck and oyster dishes. Savor a truly Northwest experience as you enjoy dinner on the beach prepared by the owner, chef, and staff. Mutually agreeable date to be determined.
Donated by Chelsea Farms Oyster Bar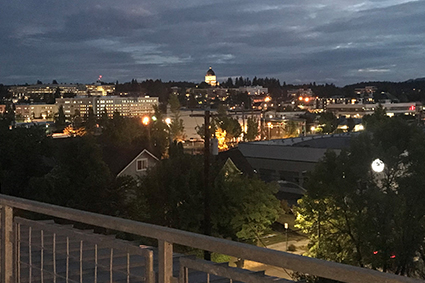 Your hosts Dr. Alison Vega and Mike Auderer welcome you for an exclusive catered dinner for eight on top of the brand-spanking-new "924 State" building. Award-winning chef of The Mousetrap, Austin Navarro, prepares a scrumptious locally-sourced dinner, while Scott and Isaac keep you entertained all evening. Enjoy 360-degree views including the Washington State Capitol, Black Hills, and Olympic mountains. This evening is guaranteed fun, and the perfect spot to watch the sun set. Date to be mutually agreed upon; expires July 26, 2019.
Donated by Dr. Alison Vega, Mike Auderer, Austin Navarro, Scott & Kallie Moore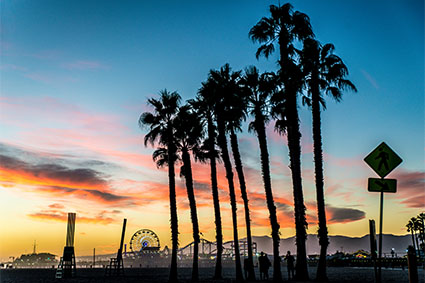 This Southern California dream vacation includes seven nights (off-season) or four nights (peak-season) in a beautiful home complete with resort-style pool. Located in Fullerton, California, the house sleeps up to eight and is close to all major entertainment destinations in the Los Angeles area! You'll have plenty to keep you busy during your stay including: 4 unlimited ride wristbands to Pacific Park, located on the world famous Santa Monica Pier; two VIP passes to The Broad, a contemporary art museum in downtown Los Angeles; four passes to the Norton Simon Museum, known around the world as one of the most remarkable private art collections ever assembled; two tickets to a performance at the Geffen Playhouse; and four guest passes to The Autry Museum of the American West. This California escape has something for everyone! Accommodations do not include cleaning or other fees. Heated pool additional; mutually agreeable date. Passes and tickets expire one year from gala.
Donated by The Autry Museum of the American West, The Broad, Geffen Playhouse, Cher & Mikey Hobbick, Norton Simon Museum, Pacific Park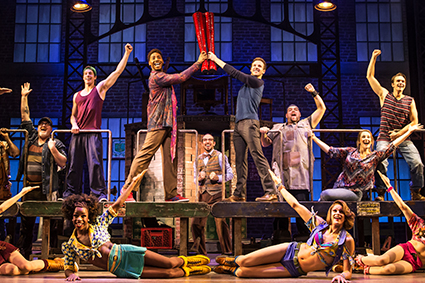 Get ready to put on your best for the Broadway production of Kinky Boots on Wednesday, Feb 27, 2019 - Broadway's huge-hearted, high-heeled hit! With songs by GRAMMY® and Tony® winning pop icon Cyndi Lauper, this joyous musical celebration is about the friendships we discover, and the belief that you can change the world when you change your mind. This will be an evening you never forget, as you and 7 friends take a limo ride to and from dinner at the home of Alex & Tammy Bunn, catered by Dillinger's Cocktails & Kitchen. Includes parking at Washington Business Bank for up to 4 cars.
Donated by: The Washington Center for the Performing Arts, Alex & Tammy Bunn, Dillinger's Cocktails & Kitchen, Capital West Limousine, and Washington Business Bank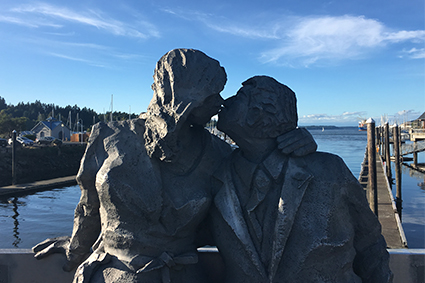 We love Olympia for its natural beauty, cultural vibrancy, and amazing people. This package has all of that, and features only the best that Olympia offers! Your Olympia experience includes a tour & tasting at Batdorf & Bronson Tasting Room, a one-hour session at Hellerwork Structural Integration, a one-hour massage at Absolute Relaxation Massage, a $250 gift certificate to Drees of Olympia, a personal tour of the Port of Olympia, and a one-month unlimited gift certificate for mat/barre classes at Pilates at Play.
Donated by Absolute Relaxation Massage, Batdorf & Bronson, Hellerwork Structural Integration, Dress of Olympia, Port of Olympia, and Pilates at Play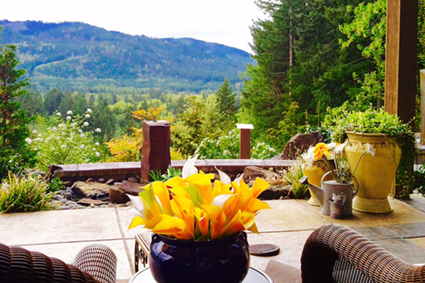 Join the mayors of Olympia, Lacey, and Tumwater for an evening to celebrate the arts in the region. Pete Kmet, Andy Ryder, and Cheryl Selby will join YOU as distinguished guests in the stunning home of Ron & Talia Hastie. This is your chance to get the inside scoop on local issues while enjoying a mouthwatering meal by Budd Bay Cafe. Good for one night only: Wednesday, November. 14. Up to ten guests total.
Donated by Ron & Talia Hastie, Pete Kmet, Andy Ryder, Cheryl Selby, and Budd Bay Café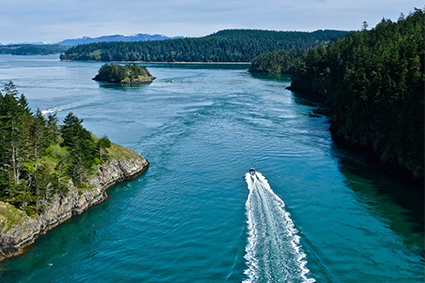 Keep your eyes out for seals, eagles, whales, and more! Dr. Alison Vega and Mike Auderer are back with a Puget Sound tour for four in a 37' Sea Ray! Your three-hour cruise includes a tour of Budd Inlet, dinner provided by Smokin O's Competition Barbeque Team, beer, wine & cocktails, and views that will take your breath away. Mutually agreeable date; expires July 26, 2019.
Donated by Dr. Alison Vega, Mike Auderer, and Smokin O's Competition Barbeque Team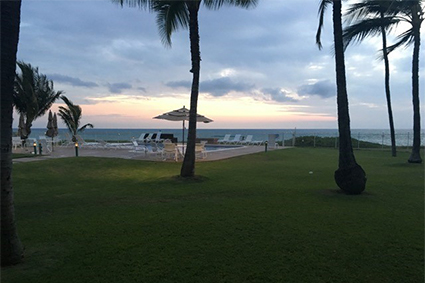 Enjoy up to ten days in an oceanfront condominium on the Waianae Coast of Oahu! Recently remodeled, this luxurious one bedroom, one bath condo sleeps five comfortably. It includes a queen bed in the bedroom, a queen pull-out in the living room plus a punee (daybed that sleeps a small adult or a child). Just beyond the lanai is a grass gathering space with pool, and beyond the pool is the ocean, all for you to enjoy. The condominium is close to shopping, restaurants and golf courses. Dates to be mutually agreed upon; blackout dates September 17-24, 2018, and November 15, 2018 - May 7, 2019.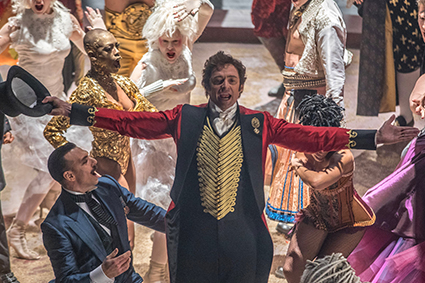 This is a package the whole family will love and one that will make your holiday experience a breeze! You'll enjoy four tickets to this year's Washington Center sing-a-long as we bring the circus to town with The Greatest Showman on Sunday, November 25, starring Hugh Jackman and Michelle Williams. This bold and original musical is packed with belt-it-out hits like "This is Me," "Rewrite the Stars," and "A Million Dreams." This family-friendly package includes family portraits including retouching for up to six people by professional photographer, Josie Padget, with an option to photograph at the Washington Center among the beautiful holiday decor by Dorrie Carr & Shelley Carr. Graphic design is included for your holiday card needs, and your first 50 cards are printed complimentary. Before the show, enjoy a $100 gift certificate to Well 80, and treat the family to gelato with a $50 gift certificate to Hawley's Gelato & Coffee!
Donated by Meredith Browand, Hawley's Gelato & Coffee, Josie Padget, the Washington Center for the Performing Arts, Well 80, and Jocelyn Wood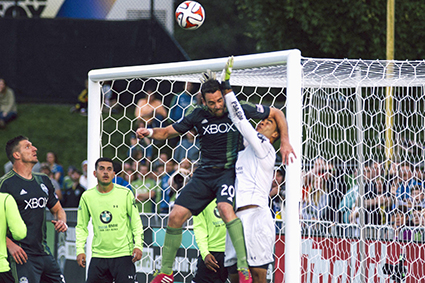 The Sounders FC 2 -- with a home base at Tacoma's Cheney Stadium -- invite you and 3 guests for a 2018 Sounders FC 2 Home Match! Your soccer experience includes VIP parking, complimentary beer, wine, drinks, snacks, and exclusive access to the Summit Club! Package includes an authentic Seattle Sounders scarf autographed by Seattle Sounder left back and Cameroonian-born Nouhou Tolo. Last valid game October 10, 2018. "I'm Sounders 'til I die!".
Donated by: Tacoma Rainiers and Seattle Sounders.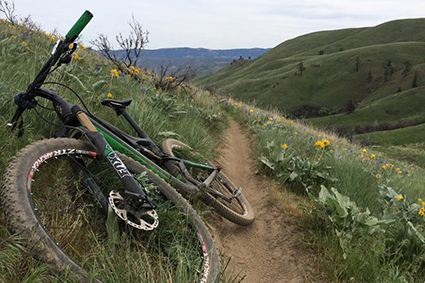 Are you ready for a four-hour guided mountain bike ride? Choose Olympia's Capitol Forest or suggest another Western Washington location. Bring your own bikes, or try one out from Lacey-based bike shop Joy Ride! After a long day on the trails, kick back and enjoy a homemade grilled dinner. Don't miss out! Two riders max; mutually agreeable date and location, expires July 31, 2019.
Donated by: Friends of Capitol Forest and Joy Ride Bicycles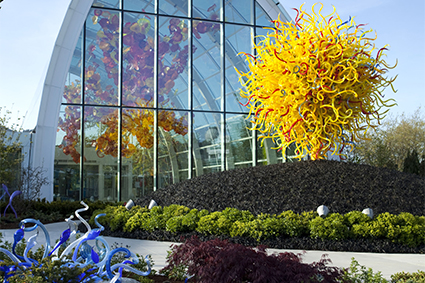 You and three friends will enjoy all this exhibition has to offer and you won't be able to wait to go again! Chihuly Garden and Glass provides a look at the inspiration and influences of the artist Dale Chihuly. Located at Seattle Center, Chihuly Garden and Glass includes an exhibition hall, the centerpiece glasshouse, and a lush garden. The exhibition hall contains eight galleries and three drawing walls, offering visitors a comprehensive look at Dale Chihuly's significant series of work; the glasshouse presents a suspended 1,400-piece, 100-ft-long sculpture; and the garden is a backdrop for monumental sculptures and other installations. In the Collections Cafe, enjoy a delicious lunch while surrounded by Dale Chihuly's personal collections.
Donated by: Chihuly Studios and Chihuly Garden and Glass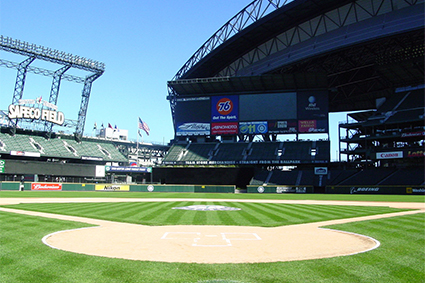 The Seattle Mariners are HOT! Here's your chance to see them during this amazing season with 4 Main Level Section 120 tickets to the Wednesday, Sept 12 3:40pm game against the San Diego Padres. With only two weeks before the MLB Playoffs, you'll want to catch the Mariners while you can!
Donated by: TwinStar Credit Union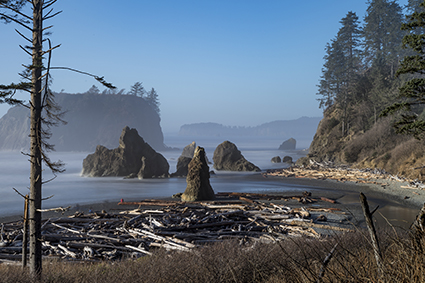 Iron Springs Resort has again been named the Best Cabins in King 5's 2018 Best Northwest Escapes! Your escape includes a $300 gift certificate to the rugged Washington coastline dramatically overlooking the Pacific Ocean, relaxing Alaffia gift basket, plus a clam gun and bags for all your clamming adventures!
Donated by: Alaffia, 94.5 ROXY, and Kelley Morgan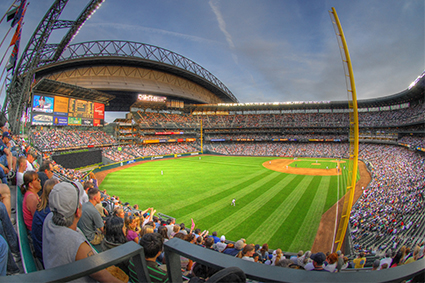 For all the baseball lovers! You'll have four seats in the View Level for a mutually agreeable 2018 regular season Mariners home game. Must be redeemed by mail at least three weeks prior to the earliest game date you request. Opening Night, Interleague series, games against BOS, NYY, TOR, and Premium Games are not eligible. Void after Sept 27, 2018.
Donated by: Seattle Mariners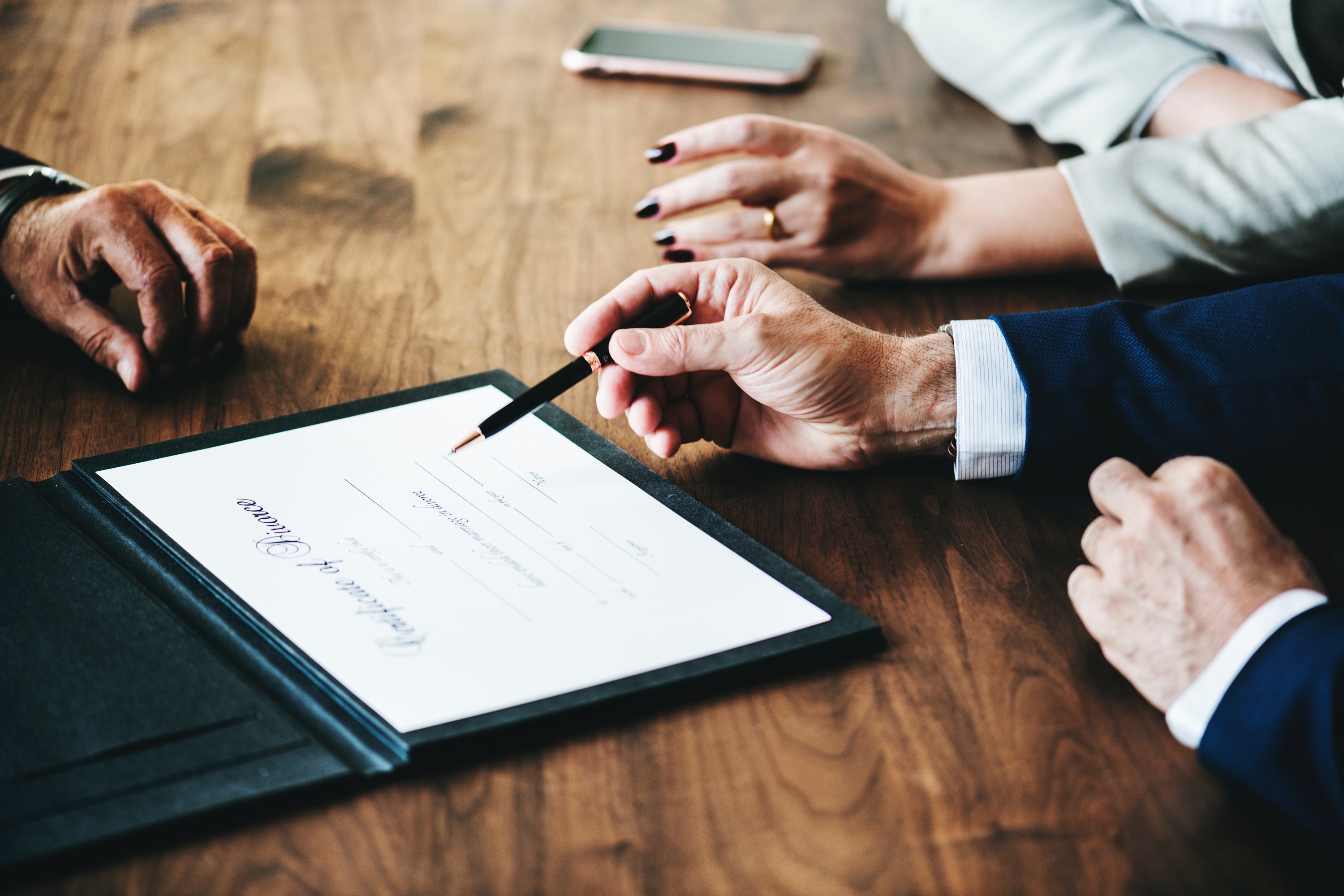 This is a great opportunity to answer some of those pressing questions! You'll receive $500 towards legal consulting at Olympia-based Jessica Jensen Law, which provides client advice, negotiation and advocacy services, and representation in transactional, litigation, and regulatory matters. Whether you're looking to start or update your will, trust, estate, or need advice in business, construction, real estate, or more, this will get you off on the right foot!
Donated by: Jessica Jensen Law